I don't often have really nice things to say about stores when it comes to this process, but I just wanted to give a quick shout-out to Sears at Seven Corners. Charged with finding a washer and a dryer for the house during the day yesterday, Abby went to the blast-from-the-past store out in Falls Church and spied a pair of Kenmore appliances on a wacky sale: originally $1399 apiece, they were marked down to $699. They were exactly what we wanted-- electric, not bottom-of-the-line, steam capability, front-loading and stackable, and even came in stainless steel. (Who really cares about the color of their washer anyhow?) She ordered them and checked two major appliances off our list. (Yay!)
Wacky '60s Sears in Falls Church, VA.
I got an electronic receipt from Sears and clicked on it, just to see where the appliances were being delivered from. (Yeah, I like to track my packages across the country. You got a problem with that?) What do you know: the same appliances that were $699 apiece at the store yesterday were $664 today online. So I click on the link to chat with someone at Sears.com to ask them about price matching. Dead link. I click on the link to have Sears.com call me, the phone rings immediately, I pick up. Dead line. I just call the 1-800 number listed on the website, and the customer service representative tells me Sears stores and Sears.com do not price match against each other, so if I wanted the online sale price I had to return the order and start anew online. Annoyed, I called the store. The guy confirmed that they couldn't price-match against the website, but once I asked him how to delete the order before it was delivered, his tune changed dramatically. My guess is they work on commission at Sears... He had no problem taking the $70 off our bill, and even said he'd do it right then, rather than having us come in to make the change.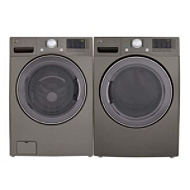 Our new washer and dryer. Originally $2800, now $1330.
So yeah, now that I read this, it doesn't seem like Sears really did us any favors, did they? But I like the fact that I didn't have to go in to get my $70 back, so that's a plus in my book. Jeez, I'm easy to please... That said, I'll leave you with a picture of our
current
washer and dryer, the subjects of one of our first Xmas card pictures as homeowners way back in 2005. We tried to be all smart about the wording, but ended up convincing some people we were going to have a baby. No, it'd be another year before that happened, and NO it's not gonna happen now (or ever again!) either.
Our apparently-confusing Xmas card in 2005,
starring our still-humming washer and dryer in DC.