After an entirely defeating Monday, Tuesday turned out to be much better-- although, true to form, there was a major setback once again. (I think the one word that describes this process more than any other is "Argh.")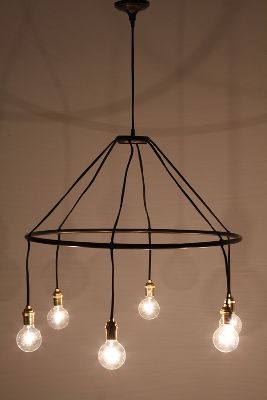 I know many of you are going to say
"this is the chandelier of a crazy person!"
Well, I am married to Abby, right?
First, let's start with the good stuff. Abby went this morning to meet with James, the local artisan (yeah, we have more than just G-Men in Washington) who's going to make our dining room chandelier. The meeting went great, and all we have to do is measure the height of the ceiling and he can get started. Abby really wants something that has an industrial look, and she's completely set on having Edison bulbs-- the same ones I griped half-heartedly about in yesterday's post. After looking around everywhere with not much luck, Abby was surfing on Anthropologie.com a while back and came upon a light fixture she really loved. And it was affordable, too-- just about $300. The problem came when she looked at the size: 19 inches... not exactly appropriate for a dining room with cathedral ceilings. So one day she was on her own on the one cool block of our neighborhood when she walked into this store called Corehaus. (Not to be confused with Storehouse, the furniture store we were crazy for before it closed a few years ago... plus, they gave you free candy for browsing.) Anyhow, Corehaus stocks a mishmash of cool, weird, artisanal, altogether kooky stuff, and they'll make you something if you give them an idea. Abby asked if they could take the Anthropologie chandelier and make it big. After a back-and-forth with them that included Abby telling them I did not want anything that looked like it came from a farm, we had a plan. And in a few weeks, with a little luck, we'll have a chandelier.
Next, she headed to the house with three cans of paint. While the contractors are going to paint 99% of the house, she wanted to paint the kids' rooms. Mostly because she's doing a stripe in Isaac's room, which has a Buffalo Bills theme, and she didn't want to worry about the painters getting her vision wrong. (Those of you who know Abby will have read this sentence without raising an eyebrow.) Also partially because she kind of wanted to shame the contractors into realizing the homeowner's actually doing some work herself. Whatever, she loves to paint, so hand the girl a brush! For those of you who are interested, Isaac's room will be mostly white, but with a blue stripe and red accents; Lola's room will be a light, sea-foamy green to match this bedding Abby bought for her a while back that has a bit of a Moroccan feel to it. That feel will go along with the built-in bed Abby imagines, that takes the idea of a four-poster and smooshes it right into a wall. (The bed was bought last year on Craigslist, and was sitting, disassembled, in my bedroom for six months or so before being stuck in our storage container at Thanksgiving.) Unfortunately, Abby didn't get much more than trim done today, because, Abby being Abby, a parade of people stopped by to talk with her. But she's going again tomorrow, and I suggested she take her iPod with her to avoid having to talk, like I do on the Metro. Fat chance, though! (Remember: Abby has a neon sign blinking "TALK TO ME!" on her forehead.)
Last night before I went to bed, I checked my email and found two surprise delivery notices. One was the West Elm lighting (recall the Edison bulbs?) that was supposed to be back-ordered until mid-March; it was apparently found, and is on its way to us-- awesome! The other was the pair of vanities we ordered from DecorPlanet.com; they were due in the morning. So at about 10:15 this morning I got a call at work from a guy with a thick accent and bad cell reception, telling me he'd be delivering something within the half-hour. I told him no problem, and didn't think twice about it... which was stupid, because I had done the same thing yesterday with the kitchen cabinet delivery-that-wasn't. At 11:15, I got out of a briefing on Azerbaijan and checked the tracking status of the delivery, only to find that the last entry read "Returning to NY." Shit! I called Abby, who was at the house: no vanities. I called the customer service number and was put on hold for 20 minutes. I could just picture the truck plowing its way back up the 95, because either nobody answered the door or, more likely, the driver had no idea where we lived. Panicking. Finally I get put through, and the operator assures me the truck's still in Maryland, and has not even attempted to deliver the vanities yet. Not convinced, I'm nervous about the vanities for the rest of the day. Only once I get home can I touch base with Abby to find out... yes! We have two delivered vanities in the house. Phew!
Also arriving today, the shower tile the UPS guy had failed to deliver Monday. So I had an idea: if there wasn't enough of the bathroom floor tile in stock (see yesterday's entry if you don't follow), then we could take the smaller bathroom and finish it first, then wait the two weeks for the downstairs bathroom and mudroom. Brilliant! But when I mentioned this to Abby, she replied, stone-faced, that while we were deciding on what to do, someone bought the rest of the in-stock tile from the manufacturer. Shit! So now we'll have to wait until about February 10 for any of our bathroom flooring to show up. My plan therefore is to keep buying everything we possibly can, just to ensure we can get reimbursement by the time the loan closes on February 15. The stuff doesn't have to be installed to be reimbursable, just physically present in the house. But we're definitely cutting it close, again.
And "Lintel," the other one.
"Danube," one of our flooring choices.
And speaking of floors, Abby managed to convince Floor Gallery in Rockville to lower their prices on the two floors she liked best there, although not to anywhere near Lumber Liquidator pricing. Rather, we can get either one for about the same price as the AllEco flooring we liked but would have to wait for. Tomorrow, we're gonna go up to the showroom and make a final decision, and theoretically we could have the flooring physically in the house by the weekend. (Wood flooring has to sit in the house for a couple of days before it's installed, to acclimate to the temperature and humidity-- who knew flooring was the diva of the home-improvement materials world?-- so that also means our heating has to go on. That in itself will be interesting, since we still have four windows missing.) Once we pick the floors, we'll also venture up to Acme Stove, about a mile further up Rockville Pike, to set the fireplace work in motion.
Finally today, I attempted to buy the toilets online, but it seems they have to be picked up in the store. Still $238 at Home Depot, but the only store in the area that has them in stock is in Falls Church-- the one across the street from the Sears where Abby bought our washer and dryer, and one of the places where the DC Sniper killed people in the parking lot way back when. So we'll have to wait until at least Thursday to do that.
So tomorrow is shaping up to be a busy one for the house: gas meter going in; HVAC turning on; cabinet re-delivery (I managed to salvage that one, and hopefully installation can still proceed on Thursday); more painting in the kids' rooms; floor finalization (hoping against hope); and fireplace stuff. All that, and Lee, the contractor working on the Windmill, Pagoda, and Swiss Chalet, wants to have dinner with us. If all goes according to plan, we're going to feel pretty good about ourselves once we tuck the kids in tomorrow night. That said, when does it ever all go according to plan?