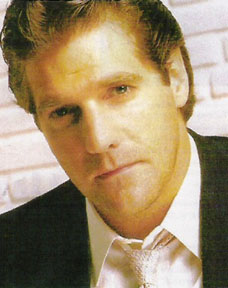 Apparently, Glenn Frey
is the love child of
Randy Travis and
Chris Isaak.
Who would have thought that , 20 months after buying this house, I'd be praising the lyrical genius of none other than Glenn Frey. Yes, Glenn Frey, that guy from the '80s that can't even be classified as a one-hit wonder, but really just the guy that happens to sing that song that goes "the heat is on." Because, really, do you know any of the other words? Well, I looked it up, and they are uncannily appropriate:
The heat is on, the heat is on, the heat is on
Oh it's on the street, the heat is on
It's on the street
The heat is on, the heat is on, the heat is on
Yeah it's on the street
The heat is on
I mean, can you get any more spot-on to describe what's been going on with our house these last few days? First off, I should mention, the heat is on! Yes, we managed to get Washington Gas out finally to install the gas meter. That was important because none of the woodwork stuff can happen without at least some semblance of a controlled temperature. Now, for instance, Mark can go tomorrow to pick up our wood floors; they need to be acclimated to the house for three days before installation, which basically means they'll be going in around the weekend. And upstairs, the floors have also begun to change. No need to show you what they looked like before, other than to remind you they are the original 1890s floors that have been on the ground in a house that's been pretty much derelict since the 1980s. But this morning when we pulled up, we found Miguel and his three floor-doing machines (that's the technical term), each of which, we are told, cost more than $2500. (Having been robbed back in 2008, and having most of what was taken be contractors' machinery, we told him not to store them in our house overnight.) And Miguel (with his lovely and cold wife watching) did this to the floors on our upper level:
Yeah, I didn't recognize the floors either.
The schedule for the floors as we move through the week includes fixing any boards that need to be fixed (tomorrow), stripping the stairs (Wednesday), and then applying various ointments and salves as necessary. Once the stairs are being touched, we won't be able to down them for a few days, so we've been getting as much use out of them as possible, having spent about 27 man-hours painting the lower level over the three-day weekend. (Is "man-hours" a sexist term? Well, Abby painted for more than half of them, so deal with it.) And, more than Miguel and his lovely and cold wife, we felt the brunt of this weekend's drop in temperatures. Sure, Glenn Frey says the heat is on, and every once in a while we hear the heat going on, and if you're standing directly beneath a vent you can feel the heat being on, but overall we are very worried about the efficacy of our heating system. Granted, the heat is currently set to about 55, just so we can have that semblance of environmental control necessary for flooring operations, but there is what Bostonians might call a wicked temperature gradient between the upper and lower floors going on, and it can't all be the fault of the fact that none of the doors or windows have an actual tight seal to them. (Remember, as Glenn Frey said, "the heat is on, it's on the street." He wasn't kidding. We are, as every suburban dad likes to remind his kids, heating the neighborhood. I happened to get a flyer from a home-efficiency company in the mail the other day, and I will be contacting them shortly to see if there's anything they can do about our windows. Because we all know that ain't gonna get done with our contractor.
Our contractor. Yep, the one who pulled all the radiators out of the house, then claims not to have realized there were so many holes in the floor so as to warrant a higher cost of replacing wood during the flooring process. The one who seems to have alienated all of his subcontractors along the way, many of whom are quite candid in letting Abby know just how they feel about him. One thing we have learned, however, is that however unsavory the contractor is, apparently everyone's smitten with the workmanship. So hey, it may take two years to get this thing done, and we may have to send our kids to work in Kathie Lee Gifford's sweatshop, but by golly the work's great!
While talking to Abby about the house while driving to my parents' out in crazy-far Virginia on Friday (they have a "540" area code! "540!" Have you ever heard of that?) I was mentioning that while I really like a lot of what's happening with the house, I don't feel as personally invested in it as I did our DC house, because we did so much of the work ourselves last time. I mean, I can remember my bloody fingers after applying muriatic acid on the brick, and I can still see the mummified pigeon fall on my coworker Billy's head as he stood on the ladder in Isaac's bedroom. Yet prior to this weekend, the only things I actually did to this house, besides that very first day of knocking down drywall back on Christmas Day 2011 (2011? 2011!) was pick stuff out and pay for it. And a lot of that stuff that I picked out never even came to fruition. However, three days later, I can safely say that those 27 man-hours of painting have taken a big bite out of my worries. (I can also verify that we listened to DC101 the whole time on the radio, and heard exactly one song featuring a female singer.) We did some painting, and some more painting, and some more painting. And now, that downstairs is painted like a mofo, and Abby and I had everything to do with that.
Abby had been going to paint for a week or so beforehand, and I had posted a pic last time with her in Isaac's room, but this is serious stuff. Since that last posting, she ripped down the carefully placed painter's tape she had put up in his room, re-sanded the wall because she was unhappy with the alignment of the stripes, borrowed a laser-level from Lee, and painstakingly created a masterpiece of stripe-itude that can be marveled at from hundreds of feet away, since it faces out the window. Seriously, it's impeccable-- judge for yourselves:
Abby's creation on Isaac's wall.
Notice the perfect alignment with the window panes.
Besides Abby's magnum opus in Isaac's room, which eventually will be a Buffalo Bills room, with red accents, she also managed to paint Lola's walls a lovely shade of what we're calling "Cinderella's Dress" blue, based on the sheets and pillows she bought for Lola in what could have been 2011, and have been sitting in storage now since Thanksgiving. I thought this was going to be more teal than it is, but it's so bright and happy that who cares?
My job on Saturday and Sunday was white. Abby had done a whole bunch of white prior to this weekend, so anything colorful was her bailiwick. So I managed to get one coat on every white surface (walls and ceilings) in the family room, the laundry room, the storage room, the guest room, and the guest-room closet. Abby was at once excited by my progress, appalled by the lack of attention I had while making several only-noticeable-to-her drips, and confused at how I could get so much more square footage done than her during the same timeframe. Well, one of my wise commenters noted last time that while you want painting done fast, cheap, and well, you can only get two of those at a time, so there's that... No, just kidding, I think I did a stand-up job. (And for that, both Abby and I will be completely stiff for the first half of this week.)
Isaac next to the newly-painted wall in his bedroom.
We let them draw on the floors, since they're just sub-flooring
and will be covered over within the week.
Can you see the white I painted in the family room?
Just nod your head and be nice, will ya?
While Isaac's striped wall may be the most technically difficult paint job we completed this weekend, definitely the boldest, and possibly the most likely to provoke ire, is in the family room. The picture I posted directly above this one is purposely taken from this angle so as not to show you the wall to your right-- the one that you see when you come down the stairs. It was Abby's opinion that this needed to be a "statement wall," because otherwise the room was apt to become a boring giant box. Therefore, I give you Behr "Poppy Seed." If you think Abby was proud when the stripes were done, you should have heard her giggling like a little girl when this color was going up. And as for me? I'm Mr. Color when it comes to walls, so it makes me very happy as well.
"Poppy Seed" going up on the family room "statement wall"
The completed "statement wall"
The wall's actually a smidge lighter than the black on the windows.
Lola's "Cinderella's Dress" Blue is in the doorway.
The downstairs shower, with the
floor tiles doubling on the ledges
I mentioned earlier that we were en route to my parents', because they were awesome and took the kids for the weekend so we could get all of this done. We drove out to Sterling last night to have dinner and grab the kids from them, since they didn't have the day off today like I did. That meant we couldn't tag team the paint job today, so I took the kids to Jump Zone in Columbia while Abby painted from 10-5. On the way, we ran two errands: one was just a normal Target run; the other was a drop-in at Home Depot to buy our second five-gallon white eggshell container, but also to return three boxes of tile we had over-ordered. And how did we know we had over-ordered, you ask? Why, because the tiling in the bathrooms not only has begun, but is almost complete! So besides our paint-stravaganza this weekend, there was a tile-fest going on in the bathrooms. The first-floor bathroom is complete, with three different kinds of tile up and done. Abby decided a couple weeks ago to use the flooring tiles on two different ledges in the shower, and that turned out to be a great decision. (See for yourself below.) Unfortunately, the tiles that went up on the vanity wall, while all coming from the same boxes, had a slight color variation that wasn't caught right away. It won't matter once the vanity is up, because it'll block those either in shadow or altogether, but I mention it here because when you look at it below, you might think "ugh." Yeah, we know, but it's okay, unless you plan on laying on the floor in our guest bathroom. So just don't do that. The floor tiles in the upstairs bathroom have also been laid, but I don't have a good picture to show, since the lighting was really poor when I took it.
The vanity wall. (Don't) notice the four mismatched squares of tile.
So what we have here is a very, very positive week, workwise. I apologize for not getting more information up during the week, since some of these pictures were taken on Wednesday when we came by for the draw inspection, but we've just been so busy lately. You know, with the house. I mention the draw inspection, and some of you may be wondering what's up with the loan and our "drop-dead date" of February 15. Well, we had the draw inspection on Wednesday, and the paperwork went through, but I have a feeling there may be a bit of consternation upcoming between us and the bank. Because our idea is that, since we have spent the amount of money the loan had designated, they should give us the remaining balance and close it all out. But I have more than a sneaking suspicion that they're not happy we decided to go above and beyond the amount of the loan on our own-- which was our only recourse, given the state of the house, and was the plan from the start. So I don't know that we'll ever see the money from that last draw-- which'd be fine, because it'd just get deducted from the total on which we're paying our mortgage. But we'll see. However, what is definite is that we no longer have a mythical "drop-dead date" for a loan, and we're looking at a matter of weeks for the finish. Yeah, I know I said that before, and no, we're definitely not going to be living in the house come March 1, but it's coming, and it's coming soon. The floors will all be done by the end of next week, the cabinets will be completed by February 28, my closet can go in once the floors are done, and the plumbing fixtures can probably go in next week as well. I'm going on another short business trip next week, and I am 100% certain that the house will look livable, even if it may not be 100% livable, by the time I get back. At dinner last night, my parents asked me where I wanted to go for my birthday, which is the Saturday after next. I would really love to have it at my house, but I know that's not going to happen. But you can bet your ass that we'll be eating dinner at Anyu's dining-room table, in our house, on Abby's birthday, 20 days later. And those aren't famous last words. Glenn Frey? You'd better start writing a song about it.